High-Quality Vinyl Flooring in Amelia, OH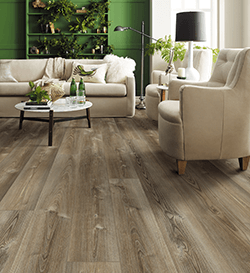 When you are planning to remodel and upgrade your home, turn to Buddy's Flooring America to find the ideal new flooring solution. We offer a variety of excellent surfaces to choose from, including our highly resilient vinyl flooring in Amelia, OH.

Vinyl easily fits into any space, offering a comfortable flooring surface that looks amazing and is easy to keep clean. Vinyl also provides unrivaled moisture resistance, making it the ideal choice for rooms with high humidity, such as bathrooms and basements. With the flexibility that vinyl floors offer, they are an attractive and cost-efficient investment for your home.
Countless Designs
Do you want to add the aesthetics of natural stone or wood flooring to your property, but also want a surface that is simple to maintain? Then vinyl is the answer for your home.

For the stone or ceramic look, we provide vinyl tile flooring. These tiles are designed to replicate the appearance of porcelain or stone while offering the exceptional versatility of vinyl. Additionally, vinyl tiles are softer underfoot, allowing you to add the elegant tile aesthetic to living areas, without having hard floors on which to walk.

If you prefer the eternal appeal of hardwood floors, then vinyl is still the right option. We offer vinyl plank flooring to create the look of natural wood while providing the exceptional moisture resistance and versatility of vinyl. This way, you can add the artistic beauty of wood to rooms where you typically wouldn't be able to, such as in laundry rooms and kitchens.

When you are uncertain of which design options would work best in your home, we are here to help. Our design team has experience with all the flooring products we offer and will work with you to search for the flooring solution that fits perfectly with your renovation goals. Visit our store to discuss your remodeling plans with us while you explore our extensive selection of surfaces, including our vinyl sheet flooring.
Quick Installation by Skilled Professionals
After you choose the new flooring solution for your home, you need to have it professionally installed, and at Buddy's Flooring America, we have you covered. Our team of experienced installers has the skills required to take care of everything your new floors need. From tearing up your old surface to laying out and installing the new flooring, our team will make sure that your new vinyl flooring installation looks as good as it did in our showroom.
Contact us when you are looking for a resilient flooring option to install in your home. We proudly serve Amelia, OH, and the surrounding areas.