Luxury Vinyl Flooring in Amelia, OH, Keeps Up with Your Family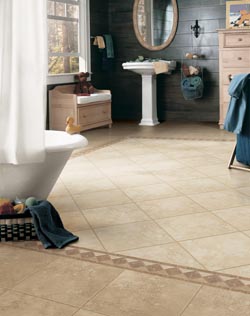 Discover a flooring material that can keep up with your everyday routine without sacrificing aesthetic appeal. Luxury vinyl tile is one of the newest flooring innovations on the scene, and it's giving other materials a run for their money with its durability and eye-catching looks. At Buddy's Flooring America, you can explore a full range of tile, plank, and more when you go online or stop by our showroom.
When it comes to luxury vinyl flooring, our Amelia, OH-based shop has all your needs covered. We take pride in carrying one of the largest local selections of luxury vinyl tile, plank, and other beautiful and durable flooring products. Visit today to see them in person and get more detailed information about your favorite styles - we're more than happy to answer any questions you may have about this unique material.


Vinyl Lasts a Lifetime
An investment in luxury vinyl is an investment in your home's beauty and functionality. Thanks to modern innovations in resilient flooring manufacturing, luxury vinyl products made today offer more in the way of durability than nearly any other material available. This makes them ideal choices for areas in your home that normally see a lot of wear and tear - your kitchen, for example, or even the kids' playroom.
Additionally, luxury vinyl flooring is unique in its ability to mimic the appearance of "natural" flooring materials like wood and stone. If there are reasons you've held off on purchasing floors like these, from either lifestyle or budgeting concerns, luxury vinyl flooring could provide a viable alternative. Visit our showroom to see our luxury vinyl plank flooring, tile flooring, and other choices.


Your Flooring Headquarters
At Buddy's Flooring America, it's easy to find a luxury vinyl product that suits your budget, your lifestyle, and your personal preferences. Simply stop by our showroom to explore options from a number of trusted brands, including:
Mohawk
Shaw
Resista
Galvanite
Engineered Floor
Floorcraft
Innovia
Core Elements
Once you've settled on a flooring option, be sure to ask a member of our staff about professional installation. We can recommend contractors whose skills we're confident in and schedule your appointment. After all, installation-related problems can interfere with floors years in the future. It's well worth your time to ensure you're getting services from an installer you trust-and our team can help.



Contact our showroom to request more information about our current luxury vinyl flooring products. We proudly serve clients in Amelia, Ohio, as well as those in Withamsville, Mt. Carmel, Batavia, Williamsburg, and New Richmond.