Your Source for Luxury Vinyl Flooring in Amelia, OH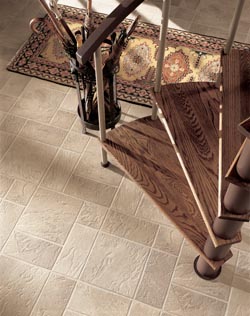 Wood is a gorgeous flooring option, but it isn't the best choice for every project. For example, hardwood often suffers damage in rooms that get wet. Furthermore, wood flooring doesn't fit every shopper's budget. Fortunately, other flooring options are available.
When you want the appearance of natural wood without its moisture concerns -- and at a lower price point -- consider vinyl. At Buddy's Flooring America, we' re proud to offer one of the widest selections of luxury vinyl flooring in Amelia, OH, including numerous products that mimic the look and feel of wood. Visit our showroom today or explore our website to see the numerous options available and find the right vinyl for your needs.


What Makes Luxury Vinyl Special
More and more homeowners across the nation are choosing vinyl. The reason for this shift is because it offers a huge variety of benefits in addition to its versatile beauty and affordable pricing. For example, the wood look-alike luxury vinyl plank (LVP) can be installed virtually anywhere. Since its installation process doesn't require existing tiles to be removed, it can be easily put into place on almost any surface. Furthermore, its moisture resistance properties make it a natural choice for kitchens, bathrooms, laundry rooms, entryways, and more.
LVP is also remarkably durable. It features a commercial-grade wear layer to protect its appearance and structural integrity. Homeowners also find it to be easy to clean and care for, which is why it is sometimes also called resilient flooring.
You'll also notice that it feels softer underfoot than other hard surface materials. This foot-friendly feel is a great benefit for those who spend a lot of time standing while they cook or clean. Vinyl also offers other environmental comforts, like good temperature insulation and soundproofing. To learn more about the advantages of luxury vinyl, talk to our team today.


Any Look Is Possible
With luxury vinyl plank flooring, any look is possible. Whether you prefer darker woods like walnut, light materials such as ash, or iconic hues like cherry, there's an LVP product to match your taste.
Thanks to LVP's construction process, any type of hardwood can be replicated with vinyl. In some cases, LVP even imitates the wood grain with special texture features. The end result is so realistic that many people cannot tell the difference between genuine hardwood floors and vinyl right away. See for yourself how authentic LVP looks by visiting our showroom today.

Contact us to learn more about our luxury vinyl products and our installation team. We serve clients throughout Amelia, Ohio, and the neighboring communities.