Long-Lasting Luxury Vinyl Tile in Amelia, OH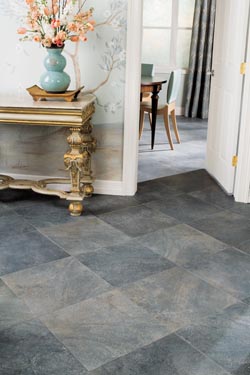 Nothing improves the overall aesthetic of your space like new flooring. But finding a material that gives you the right combination of aesthetic appeal and durability can be complicated. At Buddy's Flooring America, we offer high-quality luxury vinyl tile throughout Amelia, OH, giving you the long-lasting yet beautiful flooring you need to give your home or business the look you desire.


Why Luxury Vinyl Is a Wise Choice
Known for its visual appeal and impressive durability, LVT flooring is an excellent option for homeowners and commercial businesses alike. Made to mimic the look and feel of natural materials like stone and hardwood, this tile option gives you the beauty of traditional flooring with the added benefits of easy cleanup, water resistance, and so much more.
With a luxury vinyl tile floor, you never have to worry about scuffs, spills, or stains, making it a stress-free solution for busy families or high-traffic areas. Additionally, our luxury vinyl flooring gives you a cost-effective way to enhance the beauty of your home without the steep cost of natural flooring options.


The Ultimate Versatility
Flooring materials like hardwood are undoubtedly beautiful, but not the best option for areas routinely exposed to moisture -- like your kitchen or bathroom -- as water exposure warps its structure, leaving your once-beautiful floors looking unrecognizable. But when you choose luxury vinyl tiles, you don't have to worry. Thanks to its unique construction, this material is able to withstand moisture without losing its durability or design.


Styles for Every Application
Beyond its longevity and durability, luxury vinyl also gives you the ability to choose from an extensive array of style and color options. This allows you to match your existing interior aesthetic and enhance your surroundings the way you see fit. With LVT, you're never stuck with a cookie-cutter design that doesn't suit your taste. To see our vast selection of style options, stop by our showroom today.


Flooring Installation Experts
As seasoned flooring experts, we go beyond simply selling you the ideal flooring materials for your lifestyle to offer reliable, expert-level luxury vinyl tile floor installation. Drawing on years of experience, our crew comes to your property and installs your new flooring perfectly, leaving you with beautiful results that are designed to last. Available for both residential and commercial clients, this service makes revamping your existing floors simple and easy.

Contact our showroom today to learn more about our luxury vinyl options. We proudly serve clients throughout the Amelia, Ohio, area.