Tile Flooring in Amelia, OH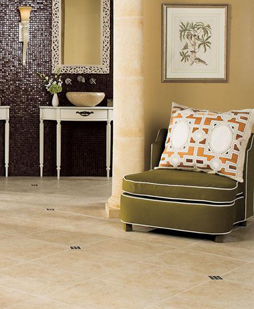 Add enduring beauty to your space. Tile is regarded as one of the most appealing flooring options for homeowners and business owners. That's why you can't go wrong with tile. When you're shopping for tile, choose Buddy's Flooring America. We're the go-to store for tile flooring in Amelia, OH. Our collection includes beautiful products from a number of industry-trusted brands. Furthermore, we offer tile in a diverse range of styles, including:
Ceramic
Porcelain
Marble
Travertine
Glass
Mosaic
Stop by our showroom today to begin exploring your tile options. We look forward to helping you find the ideal surface for your room.


Tile for Every Style
Your options are nearly endless at our tile store. Numerous different colors, patterns, texture, shapes, and sizes are available. Whether you prefer a classic appearance or love bold trends, you'll find alluring options on display in our showroom. We're proud to offer tile for every style and at various price points.
Some people know exactly what they're looking for before they step through our doors; others don't know where to begin. No matter where you fall on the spectrum, our team will point you towards the right tile product for your needs. Talk to us for help finding specific items or to get a recommendation tailored to your design preferences, performance expectation, and price range.
The Benefits of Ceramic and Porcelain
Why are ceramic and porcelain tile floors such popular choices? Their continuing popularity is thanks to their great looks and valuable benefits, such as incredible durability and easy maintenance.
It takes a lot to damage tile. Both porcelain and ceramic tile are highly scratch resistant and also ward off water damage. Likewise, they shrug off most kinds of staining. In fact, most property owners find tile to be remarkably easy to clean and maintain. Best of all, if you somehow manage to damage a tile, you can simply replace the affected piece rather than replacing the entire floor. Learn more about these tile advantages and more by speaking with our store's staff.
Professional Tile Floor Installation
Sit back and relax—we'll handle your tile flooring installation for you. Our team includes installers who are trained to work with every product we sell. In no time at all, we'll have your new floor in place and ready to show off to all of your guests. Most importantly, we'll make sure it's installed correctly to avoid unnecessary wear and tear.



Contact us to learn more about our extensive tile collection and our installation services. We serve clients from throughout Amelia, Ohio, and the neighboring communities.